Eat healthy with ayurveda
The internet is full of dietary advice and guidance for all kinds of diets. The term "healthy food" is suddenly defined by large companies and corporations claiming to have found the key to how exactly you can be as well and healthy as possible. But who really owns the truth? We take a look at what healthy versus what capitalist pressure is, and what ayurveda can do for us.
What is actually healthy food?
If you want to eat healthy it is important to remember what food really is. Food grows on trees, on shrubs, in the ground, and it also comes from animals. The pre-packaged food we get in the store is composed of a variety of ingredients that has previously never had anything to do with food, ranging from preservatives, dyes, added sugar or other sweeteners, and even toxic chemicals. How is our bodies supposed to know how to digest this?
Once I was given the advice «any food that has a commercial, is not food». The point being that we need to reflect on weather what we are eating is actually healthy and nutritious food, or if large companies and corporations are making money trying to feed us unhealthy ingredients. Capitalism isn't built on good ethics. It is designed to make as much money as possible.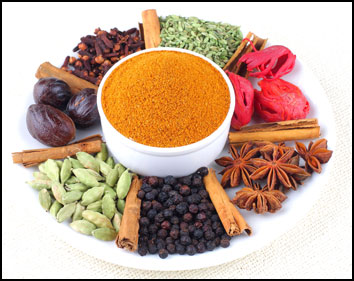 Fruit, vegetables, tomatoes, cucumber, brockoli, cauliflower, nuts, root vegetables mm – that is real food. Pure meat and fish, which has not been to China or any other places in the world, to add water and chemicals – that is realy food. Packets, bags and boxes with ready meals, is a good idea to steer clear of.
So, what can you actually do with this raw food? As the internet is already filled with fast meals, we we'll do it differently. Make proper food, right from the bottom, and do it properly. And how are you going to make time for this, you ask? Make large portions, divide them and put them in the freezer, and make different kinds for good variety. Then you only need to make a big dinner occasionally, and all the other days you can have quick dinner that only needs to be heated. It becomes as healthy and good as when you made it.
Ayurveda
There are countless advice on what to eat and how the food should be prepared, but today I will introduce you to ayurvedic food. Ayurveda is a thousand-year-old holistic, Indian medicine tradition. Ayur means life, and veda means knowledge. In other words, Ayurveda is life knowledge, or knowledge of life.
Ayurveda also looks at food as medicine. By using, among other things, herbs, spices and oils, according to the individual's dosha, ie type, vata, pitta and kapha, one can facilitate an individual diet to achieve maximum health benefits.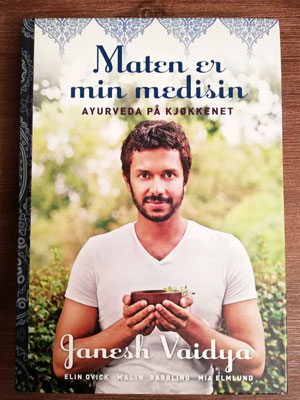 The cookbook Maten er min medisin, Ayurveda på kjøkkenet (The food is my medicine, Ayurveda in the kitchen), written by Janesh Vaidya, gives an insight into the ayurvedic approach to the individual's needs, and give a short description of the different types, vata, pitta and kapha. The book has a number of recipes for a balanced diet, with adaptation for the different types. Here you can find healthy, good food that you like, and also get help to facilitate it for your own individual needs.
If you cook your food on organic ingredients, it will be more nutritious and taste better.
The food is my medicine
No matter why you would like to eat healthy, whether you want better health, lose weight, or just keep a healthy lifestyle, Maten er min medisin (The food is my medicine) is a great tool to get there.
Remember to buy some custom-sized jars to freeze down suitable portions of food. By using glass instead of plastic, you help both the environment and your health.
Have you got experience with the recipes in this book? Please share it with us in the comments field below 🙂